We originally compiled this list of LA beer blogs back in 2015 when there were almost as many bloggers as brewers in Los Angeles. Now in 2018, the growth of local breweries has far outpaced the number of bloggers. Some of the original bloggers on this list are still holding strong, while others have moved on to other beer & non-beer endeavors. We've also seen the rise of Instagram influencers and Facebook Groups as ways to build beer community and share content.
So, we decided to update this post to cover the best Los Angeles beer blogs, beer Instagrams, and all the other resources that you need to follow to stay on top of everything going on in the Los Angeles beer community in 2018.
Beer Blogs & Websites
Ok, let's just get this one out of the way. It's us. We do our best every single day to keep you updated on the latest beer events, new brewery openings, beer releases, and other beer news in Los Angeles. You can browse our Beer Finder map to plan your next brewery tour, view our events calendar, check out our rotating Top 10 list, follow along on Facebook & Instagram, or subscribe to our YouTube channel to catch our weekly Events on Tap video show. But the best place to keep track is on our email newsletter, which you can subscribe to here.
Ok, now on to the rest…

With a newly revamped look and website, The Full Pint has kept their craft beer coverage strong into 2018. Founded in 2007 and based in Los Angeles, The Full Pint covers craft beer news nationwide, but has a strong focus on the Southern California area. Founded by Danny & Jonny, the site is powered by a crew of contributors covering news, events, reviews, op-ed pieces, a weekly podcast, and more. They're active on Instagram, but the best place to keep up with their daily content is probably their daily email update.
Beer Search Party is the personal beer blog of Sean Inman. Sean is prolific with his publishing schedule, churning out a ton of interesting beer content – from local news, nationwide industry news, beer reviews, new openings, and events almost every day of the week. You'll even find Sean contributing here on the Hopped LA blog from time to time! You can also catch him on Facebook and Instagram.
Craft Beer Guy is the online beer persona of Lloyd Brown. Lloyd specializes in the South Bay beer scene and is frequently seen at beer fests, anniversary celebrations, and other events with his camera snapping photos of the crowd. Check out his website to read up on his latest LA beer adventures and follow him on Facebook for his photos of the latest beer events.
Craft Beer Long Beach features news, stories, and events all focused on the rapidly growing Long Beach beer scene. Started in 2016 by Dennis Trilles, Craft Beer LB consists of a semi-regularly updated website, a very active Instagram account, a series of Meetup events, and a now-second annual beer festival. If you want to stay updated and get more active in the Long Beach beer scene, this one is a must-follow.
Beer Newspapers
Beer Paper LA is the only LA print publication dedicated to bringing interesting beer stories to your tasting room reading experience. Headed up by Daniel Drennon and accompanied by a talented cast of contributors, Beer Paper LA's monthly collection of interviews, op-eds, and exposés give you a unique insight into the Los Angeles beer community that you don't get anywhere else. Daniel's extensive network of beer industry friendships comes through in the access the paper gets and the stories they tell. Just take a look at their Instagram to see what I mean. Look out for the latest issue of Beer Paper at your favorite local beer spot, and if you don't see it, shoot them a message and let them know so they can start keeping stock there.
Beer Journalists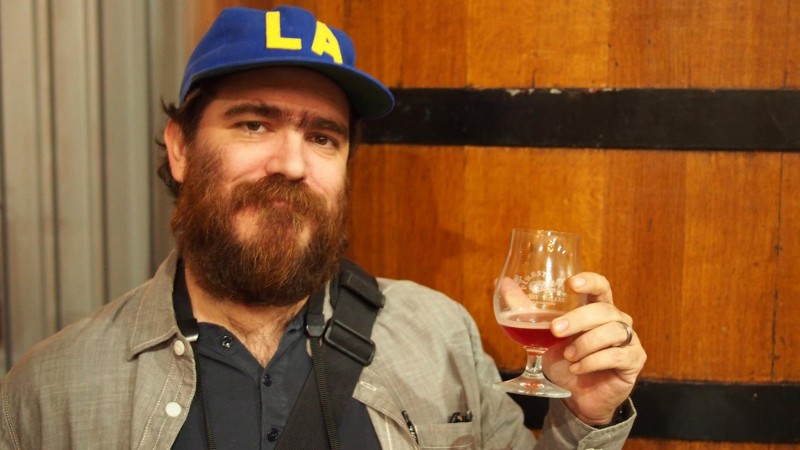 John Verive
John Verive is THE Los Angeles beer journalist. There isn't anyone else who provides the depth and breadth of coverage of LA's most interesting beer stories across some of the most widely read outlets in the area. John's work has appeared in places like LA Times, LA Magazine, Huffington Post, Paste Magazine, CraftBeer.com, Beer and Brewing, Beer Advocate, The Full Pint, Beer Paper LA, as well as the beer blog he runs with his wife Julie, Beer of Tomorrow (more active on Instagram these days). Not only is John a great writer, but his beer photography work is excellent and provides a really unique perspective on LA craft beer and the brewers that brew it. Follow John and keep a look out for his content around town.
Sarah Bennett
If you've read a local beer publication, then it's likely Sarah has written for it. Based in Long Beach, Sarah Bennett is a media studies professor by day, and a beer/food/music/culture journalist by night. Her work has appeared in publications like OC Weekly, LA Times, Beer Advocate, Beer Paper LA, and so much more. Sarah's takes on local culture are unique, and at the same time relatable, making her work a fun and enlightening read. While her home of Long Beach is her specialty, her work spans across both Los Angeles and Orange Counties and the breweries within them. Keep an eye out for her work and in the meantime, follow along on her blog and on Twitter.
Instagram Accounts
The LA Brewers Guild is a non-profit organization dedicated to supporting the independent craft breweries in Los Angeles. Their Instagram account is mainly used to promote their various beer events and re-gramming news and updates from their member breweries. Give them a follow to get regular updates on the local breweries.
Girls Who Like Beer was founded by local designer, photographer, and craft beer lover, Kelly Erickson. While they do have a website, your best bet is to follow them on Instagram, where their posts focus around fostering community and celebration for the growing female voice in the craft beer community. Expect updates on local LA beer events, brewery news, and beer releases around the LA area. Give Girls Who Like Beer a follow and support the women in our beer community.
Dope and Dank is a lifestyle brand created by Teo Hunter and Beny Ashburn that promotes cultural diversity in craft beer through content, design, apparel, and events. Follow them on Instagram to keep up on their latest adventures in LA beer.
Brew Alert keeps you updated on the latest craft beer releases in Los Angeles by re-posting photos from all the local breweries. Looking to score at a last-minute can release? Brew Alert's got you covered.
All Things Brew is another LA beer Re-Gram account, focusing more on news and events from local breweries and beer bars. Another great way to stay up to date on the latest in the beer scene.
Brewing LA is another account that re-grams updates from local LA breweries. So you could either follow every single brewery and hope you see all their Instagram posts. Or you could just follow Brewing LA, turn on notifications and be set.
If you like drama, you'll love Worst Beer Blog. The mysterious man behind the brand, Peter David, curates all the scandalous, cringeworthy, infuriating, and ridiculous in the craft beer industry for your social media entertainment. While he's mainly around to stir the pot, Peter is also a staunch proponent of independent beer. So be sure to comment on his posts and let him know his pics suck whenever you can.
Other Resources
The LA Beer Subreddit isn't updated super often, but you can often find some great news and informative threads if you keep an eye on it.
The Los Angeles Area Beer Facebook Group is a great way to stay up to date on news and events in the LA beer community. The group admin, Peter Castillo, does a great job sharing timely, relevant posts from local breweries and beer bars that you'll want to know about.
Beyond LA
Greg Nagel – Orange County
When it comes to staying up to date on the Orange County beer scene, Greg Nagel knows whats up. Since we last published this in 2015, Greg has transitioned from his original brand, OC Beer Blog, to expand his focus and take on some new ventures. You can now find his work covering the Orange County beer scene in Orange Coast Magazine and most recently in OC Weekly. He is also a part of the Four Brewers podcast and the organizer of a great annual cask ale festival, Firkfest. You can stay up to date on everything he's got going on on his Facebook page and Instagram.
The Ventura County beer scene is exploding right now and VCTapped is the best resource for staying up to date on new openings, beer releases, and beer events all over the county. Check out their comprehensive beer map, follow them on Instagram, and join their Facebook Group where founder, Kevin Wells, and other members post daily about what is going on and where you need to go to get great craft beer in Ventura County.
There you have it! All the best beer blogs, websites, Instagram accounts, and more to stay up to date on the LA beer scene. Have a suggestion to add to the list? Shoot us a message and let us know!